E.l.f. (Eyes Lips Face) - Gift Gloss (Sugar Kiss Collection)
- About 4 €
- 4 little gloss
- Elf France / Elf UK / Elf US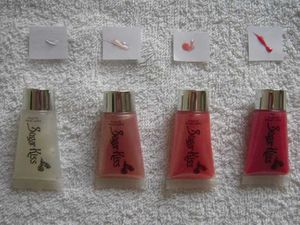 Color:
Peach Passion.


This is a gift pack, so you can't order it separately.
There are 4 little gloss, "travel" size.
From the left to the right:
- A transparent one with a little bit of shimmers in it.
- A bright pink, pearly, almost transparent, with shimmers in it too. It can be very beautiful on a nude makeup.
- A pink one, natural, with more "color" in it, shimmering, but it's still natural.
- A hot pink, with shimmers too. I don't use this color very often, or if I'm more tanned.
These four glosses are really sticky, that's the only thing I don't like.
Because of their price, it's worth it, you can have one in your purse, it's very convenient.