St Tropez - Self-Tan Remover
- About 10 €
- 325 ml / 11 fl.oz.
- Cheap smells / Look fantastic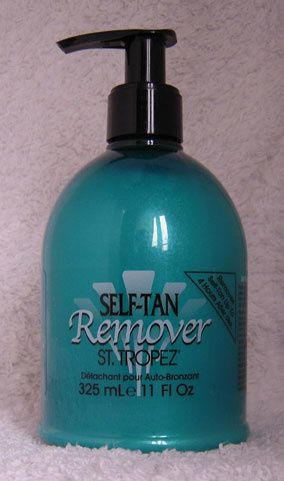 This review can be helpful if you're used to apply bronzers, if not, I think it won't be interesting for you !
As you can see, it's a tan remover. First, I thought that I could use it to remove bronzer after 3 days or something like that. For example, if I applied some bronzer to go to a party, I could use this product to remove the "tan" the next day.
If you think about it, you will say that I'm wrong, because the tan is removed by the dead cells which are removed naturally, so the "tan" is on these cells, and when they are "gone", the tan is also gone.
I hope that you will understand what I'm trying to say, because it's hard for me to try to explain it in english !

So, this product is made for removing bronzer, JUST AFTER you have applied it
. For example, if you use your hands to apply it (like I do), this product is made to remove the product from your hands, so you won't have brown hands.
This product is efficient if you use it, maximum 4 hours after having applied bronzer.
When I've applied my
St Tropez mousse bronzer
, I put some water on my hand, I use one pump of this product, I rubb my hands together, and I rinse it with water, and I don't have any brown product on my hands. The product is kind of "abrasive", you have to put some hand cream on your hands after having used it.
The smell of the product is almost awful, very strong but that's a detail for me.
Maybe it's the same effect if you use an exfoliator or a scrub. I've only tried to take this off with soap, and it didn't worked for me !
I don't think that you absolutely have to have this product, but I really like it.
This is not written on the bottle, but I don't think that you can use it on your face (for example if you have too much bronzer on one cheek).