- About 8 €
- 7 ml / 0.2 fl.oz.
- Drugstores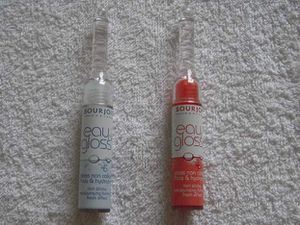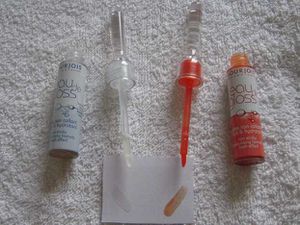 Colors:
11 eau fraîche
(fresh water) and
14 orange léger
(bright orange).
These two little cute bottles are glosses. Actually, not really a gloss, it's between chapsticks and gloss, so it's not as pigmented as real glosses, and it's not as sticky as them too. It's more moisturizing, it only colors a little bit the lips, really transparently.
For example, the one on the left is almost transparent, like a transparent gloss, but not sticky. The other one is very light on the lips, I think it's really good for a nude look, because you have something on the lips, but it's very discreet, it only colors the lips very naturally.
I don't know if this product is still available, maybe in discount stores...
Previous step
and step forward
: - Nothing, I apply it directly on my lips.