Make Up For Ever - Camouflage Cream Palette
- About 36 $
- 5 colors
- Sephora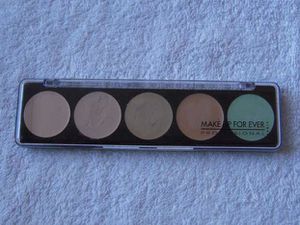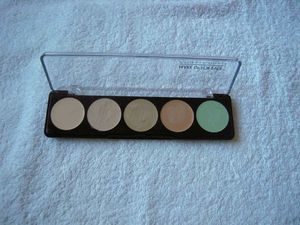 N1
These are concealers. The texture is kind of creamy but you have to "heat" the product with your hand, if you don't it could be too dry. I prefer use it with my finger and not with a brush, but you use it like you want of course.
The shades are for light to fair skin. I've got medium fair skin (if that makes sense), and like you certainly know, it's better to use a concealer one shade lighter than your skin tone.
The first color is a bright beige, then a pinkish bright beige, slightly different from the first one (I use it under my eyes, the first color is too "yellow" for me but at the same time, too fair), the color in the middle is more brown, darker, so I use it when I'm a little bit more tanned for example. Then a darker one, a little bit more orange, I also use it when I'm tanned, and the last one is a green color (to correct redness).
Because I don't have a lot of pimples or redness or imperfections on my face, I only use this palette under my eyes. The result is good, but be careful if you have dry skin under your eyes, the product will dry and you will see fine lines easily. So I would recommend you to use a "rich" eye cream, very moisturizing, and then apply it.
There are two or three other shades, for different skin tones. This one is the lighter.
Previous step
: - A base on my face
Step forward
: - Foundation (just after having applied concealer)
- Powder
- Blush / Bronzer, etc...