Nivea - Tinted moisturizer
- About 10 € or less
- 50 ml
- Chemist Direct (english website)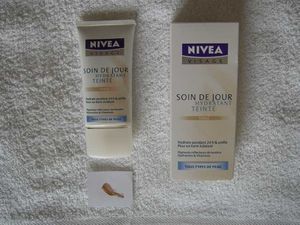 As you can see, it's a tinted moisturizer !
The shade is
Natural
. I think that there's only one shade, on the photo, you can't see but, it's written in french (because I live in France), and the shade is
Sand
.
I've also got the "english version" of this product, and I can say that the shades
Sand
and
Natural
are exactly the same.
This photo has not a good quality at all, so you can't really see the shade.
When I first saw it, I thought it was a strange color, and it wouldn't be natural at all. The color is a cream beige (?), not very fair I think; with pink undertones.
I have yellow undertone, so I thought it wouldn't be very good on my skin. T
he texture is like a cream or a liquid foundation
. In reality, when I first have applied it on my skin, I was even paler than I was naturally ! Really strange ! On my skin, I think that the color "appears" a few minutes later.... I'm used to apply bronzer or bronze powder, maybe that's why I felt very pale with only tinted moisturizer on my face.... I also applied some bronzer for contouring my face and it was okay.
This has a
light coverage
, of course, it's not a foundation, so I won't recommend it for someone who wants to cover imperfections. For me, this is only to give more colors to my skin.
Because I have
combination skin
, I didn't know if I had to apply it after my moisturizer (I thought i wasn't logical, because this product is a tinted
MOISTURIZER
, so why moisturizing your skin twice ?) or if I had to replace my moisturizer by this product.
I've tried the two possibilities, and it's still difficult to answer:
-
When I've applied it on top of my moisturizer
, my skin became shiny almost 3 hours later. It was worse at the end of the day, I really hated it. I have to say that I hadn't put some powder on my face, only the tinted moisturizer.
-
When I've replaced my moisturizer by this one
, I powdered my face a little bit. (I also have to say that this product is a little bit hard to blend on my face, I don't know if it's just for me.... the texture is much more drier than a cream one). My face didn't get shiny, but it became a little bit drier than usual. So, that's the way I use it now !
If you have any advices for how to use it, please tell me !