Sephora - Radiant Flash/Face Spray
- From 4,90€ to 12€, depends on the size of the bottle.
- 30 ml, 50 ml
- Only in Sephora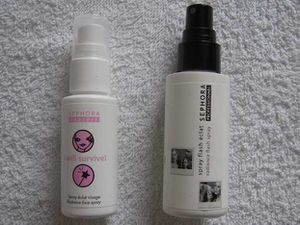 On the left:
" I will survive ! " Radiance face spray
Sephora Express
On the right:
Radiance flash spray
Sephora Professional
The product on the left is from the Sepora Express line, which has a lot of little products or container, great when you're travelling.
The product on the right is from the Professional line, this is the old packaging, the new one is grey, but it has the same name.
I started to use the one on the left, I bought it few years ago, and I didn't know how to use it. I sprayed it on my face, and I saw that my skin felt less "tired", but it wasn't a very important product for me.
Then, I started to use foundations, powders, etc... And one day, I had to go to a party, and the makeup that I did in the morning was not as good as when I did it, the concealer under my eyes was very dry, I could see my fine lines, my face wasn't "glowy" at all, I looked like I was sick !
And I decided to spray it on my face, I closed my eyes, I did just one spray on my face, and when I opened my eyes, I really saw the difference. The skin was smoother and I didn't look like as tired as I was. There are fruit exctracts in it (kiwi, citrus), and the vitamines "boost" your skin !
When I've applied my foundation and my powder (I have to use powder because of my combination skin), I think that my skin is very "matte", it's not natural at all (unless it "melts" with my skin), so I spray it on my face, like others spray thermal water, and it really works for me.
Concearning the prices, I think it's better to buy the little one, because it's cheaper (if you buy two little ones, it will costs you about 10€ for 60 ml, it's less than a 50 ml bottle which is 12 €). The bottle is tiny, so you can keep it in your purse.
Previous step
: - All my makeup, eyes makeup include
Step forward
: - Nothing