NYX - Eye & Lip Make-Up Remover
- About 6 $
- 80 ml / 2.8 fl.oz.
- NYX / Cherry Culture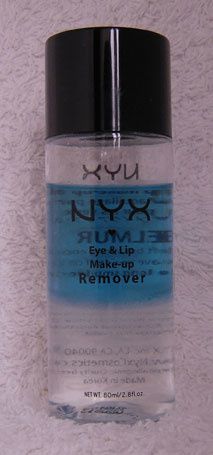 This is a new product from
NYX
. They've started selling make-up removers, there's a gel, an oil and a make-up remover. I've bought these three articles, but I've only used this one.
I'm used to apply on my eyes, a base, eyeshadows, an eyeliner or khol, and mascara, that is to say, a lot of things ! So I need a good eye makeup remover.
I only use this kind of remover, which has two different levels. I don't know the word in english to say it, in french is "bi-phasé". It has a transparent phase, and a blue one.
One of them is oily (the white one, because of its density, it's on the bottom of the bottle, if that makes any sense !) and the "water" one is on top.
You have to shake the bottle, so the two "levels" are mixed together.
As usual, I apply it on a cotton pad, and I press it on my closed eye. I wait about 30 seconds, so the makeup is starting dissolving, and it's easier to take it off. I use it very gently on my eyes, and the makeup is taken off very quickly.
This one let the eyes a little bit greesy, but, for me, it really doesn't matter.
I've tried other eye makeup removers, some of them made my eye area very dry, or irritated my skin.
For the price, this is totally worth it for me, I've used it for about 5 weeks (and I use it almost 5 days a week).
I really recommend it, I really want to try the other removers !