Nivea - Creamy Metal Eye Shadow
- About 11 €
- 7 ml
- Drugstores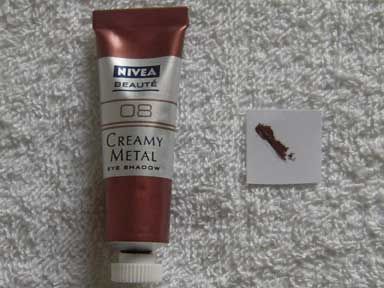 This is the shade:
08 rusty brown
, a metallic brown.
The packaging reminds me of
Paints
from MAC. I've never used these, but I've seen on videos that the Paints could be used as a base.
This is exactly the same thing with this product. I've used it under a golden - light brown makeup and it was really beautiful.
I've got brown eyes, so, using this product alone is not a good idea, because it has the same color as my eyes.
But it can be very good as base like I've said, the colors are more brillants, and the makeup lasts longer (more than 8 hours), with, on top of it, an ELF quatuor palette.
Just be careful, no to apply to much, because you won't be able to blend it well, so just a tiny little "drop", and you can do both eyes.
I only use my finger to apply it.
I'm really satisfied, I won't say it's a cheaper alternative, because this product is kind of expensive I think.
Previous step
: - No one.
Step forward:
- Eyeshadows
- Eyeliner
- Mascara