Maybelline - Mineral Power
- About 12 €
- 30 ml
- Drugstores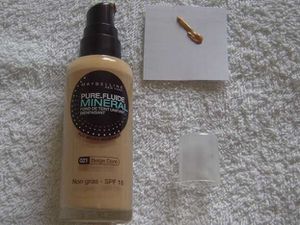 The color is :
021 Golden beige
.
I've visited the US Maybelline website, and I've seen that there were many different shades, with other names. This one is the "French shade's name" of this product.
First of all, I would like you to know that I'm not a huge fan of mineral makeup. I've tried the Maybelline one called Mineral powder or something like that and I liked it but it wasn't my favorite powder foundation.
One day I was shopping into Monoprix (a kind of french drugstore), and I saw it, it wasn't too expensive, so I decided to try it out. It has SPF 18.
I've chosen a shade a little bit darker than mine (not too dark, it won't be natural at all) because it gives me a healthy glow, and if I buy the exact shade for my skin, it's too much pale and people think I'm sick ! If I do, I have to apply a lot of bronzing powder, and it's not natural at all !
This shade has golden in it, I think it exists a "pink beige" shade, but I'm not sure. But there's a large choice for colors.
The coverage is normal I would say, not too light, not too heavy. If you have a lot of blemishes or scars etc, this is not the best product for you I would say. I think it's more for dry skins.
I have combination skin, and this product stays well on my cheeks but on my forehead, it's not as good. It becomes shiny after 2 hours (I apply some powder just after having put on the foundation).
Liquid foundations always make me break out (just little few pimples), and this mineral one also does...
I wouldn't recommend it if you have combination to oily skin.
Previous steps
: - A base
Step forwards
: - A powder
- Bronzing powder / Highlighter / Blush