- About 20 €
- 6 g
- MAC Stores / MAC online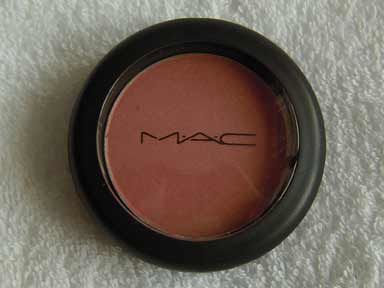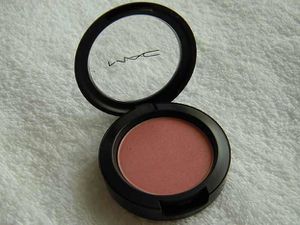 Color:
Springsheen
This a regular blush, if I can say it like that ! It's not a cremeblush, just a powder one. This is the first blush from MAC that I try. It's a light peach color with a little bit of golden in it. So, if you don't like shimmers, don't buy this one !
In general, I prefer matte colors, but I saw this on YouTube, so I decided to try it. I don't know why, maybe because of the shimmers, it makes me think about Nars Orgasm. I'm sure that you will say Oh No ! Nars' one is more pink !
But... for me it looks like, maybe not in the pots, but on my skin.
So, the color is a light peach like I've said, perfect for brown-haired girls (this is my opinion !), it's quite natural, except the shimmers... For a day look I like using it when I'm a little bit tanned, because if I've got really white skin, I think it's not very natural. Or I use it at night.
I use it with an angled brush, I blend it on my cheeks.
Besides, I'm pretty pleased with it, I would like to try other colors, but there's so much choice so I can't decide... If you have any suggestions, tell me !