E.l.f. (Eyes Lips Face) - Hand Sanitizer
- About 1 € each one
- 15 ml / 0.5 fl.oz.
- Elf France / Elf UK / Elf US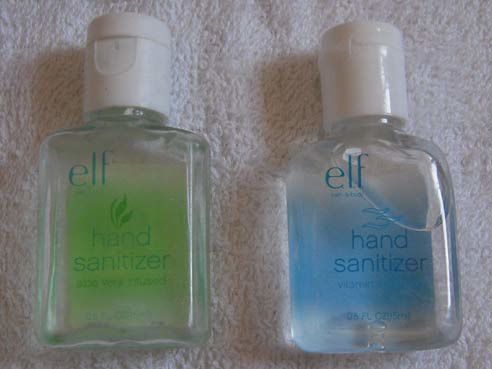 On the left:
Aloe Vera infused
On the right:
Vitamin E infused
I don't think there are other fragrances, for the moment !
This is not really a beauty product, but, because I like it, I would do a review on it.
I always have one of these little bottles in my purse, not that I'm obsessed with bacterias but more because it can be useful to have it.
For example, I can use it to "remove" makeup on my hand when I try the samples in stores.
I use it more when I eat something with my hands (like McDonald's, KFC, ... for example !) and I don't like to have the smell of what I've just eaten on my hands for the rest of the day ! I don't like to have greesy hands too, so it takes it off pretty good. Of course, if I can wash my hands with soap and water, I would do it, but if I can't, I use this.
The smells of these are quite good, I would only say that it smells like alcohol a little bit too much... I've tried other products like that which had better fragrances.
But, I only use it occasionally, so it's not a real problem for me !