- About 25 $
- 6,7 fl.oz.
- www.dhccare.com (US website, but it exists for other countries)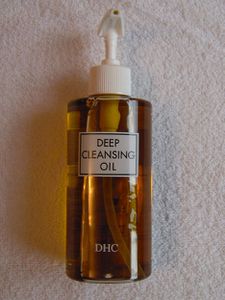 I've discovered this Japanese brand with samples. There was four products: the Deep Cleansing Oil, the Mild Soap, the Mild Lotion, and the Olive oil.
I used it about 3 or 4 days, and I decided to buy 3 of them. The deep cleansing oil, the mild soap and the mild lotion.
The olive oil wasn't necessary for me, my skin is already a little bit oily, it made it even more oily.
This my "night time" routine.
So, this product is a makeup remover that you can use on your eyes and on your face. I only use it on my face, because I don't like having oil on my eyes, but I've tried it once, and it worked very well.
You apply it on your face, dry. Then you rinse it off with water, and that's it !
All your make up is taken off.
I'm really in love with this product, it has olive oil in it, so it's smell a little bit like olive oil. It is not greesy at all. Once you have rinse it off, your skin is not "oily". This is just amazing.
So, every one case use it, no matter which skin type you have, it works. I just think that people with oily skin won't like to use this product, but they can.
It removes all my face makeup in one time. It is a little bit expensive, but if you buy sets, of course it will be cheaper. But it's an investissment (totally worth it for me).
I really recommend it, it's my favorite makeup remover (and I've tried a lot....)
Previous step:
- Nothing, you apply it on dry skin.
Step forward
: -
Mild soap
-
Mild lotion
- Moisturizer